This Fever I Can't Resist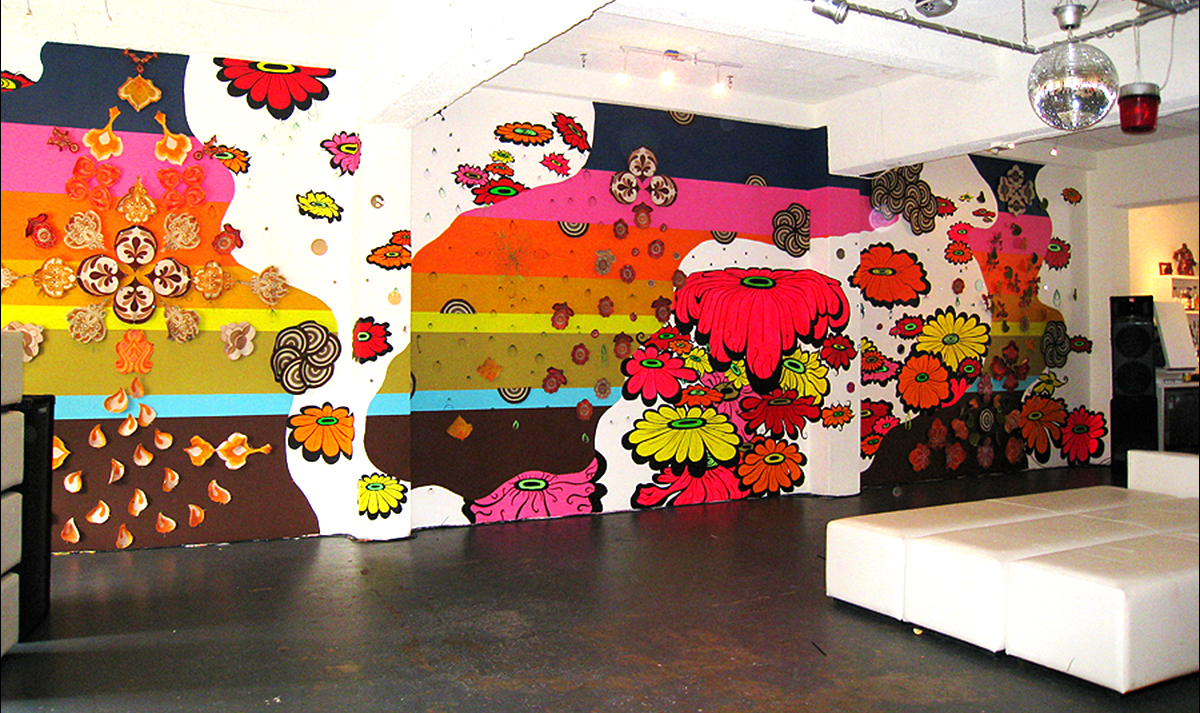 This Fever I Can't Resist
A site-specific Installation by Carolyn Castaño and Megan Wilson
Curated by Trisha Lagaso
thirtyninehotel
June 6 - July 26, 2008
39 N. Hotel Street
Honolulu Hawai'i
Megan Wilson, This Fever I Can't Resist, installation (paint, textiles -- cut curtains from the sixties and seventies, quilling, pins, sequins, mirrors), 2008

This Fever I Can't Resist
In This Fever I Can't Resist, Carolyn Castaño and Megan Wilson explore the aesthetic and social landscape of beauty and the fever it often ignites. Through large mixed-media wall installations that are part modernist pattern and part tropical explosion. Castaño and Wilson's installations aim to create a heightened experience of sensuality, a psychedelic mind trip, a transcendental state of mind, a rise in body temperature, a lust of the unknown.

Curatorial / Process / Installation
thirtyninehotel curator, N. Trisha Lagaso Goldberg invited Megan Wilson and Carolyn Castaño to create an installation for the space in November 2007. Trisha left it up to Wilson and Castaño to decide how they would present their work together – full collaboration throughout the space, dividing up areas within the space for our individual works, or some of both.
Lagaso Goldberg sent the artists images of the space and described the atmosphere as a nightclub/gallery and its location in Chinatown.
Wilson and Castaño worked together on many projects over the 12 years prior to the exhibition at thirtyninehotel and were already very familiar with each other's work and often providing feedback for one another. Wilson and Castaño talked about the context for the exhibition, the intersections of their work, and their experiences with Hawai'i. These discussions led to This Fever I Can't Resist, for which Carolyn came up with the title. Each of the artists then began making preliminary drawings and plans for the show, having decided that they'd utilize the walls separately with a few spaces that would collide and that they'd each use some of the same fluorescent colors to tie the work together.
Wilson's preliminary planning process for projects and exhibitions includes creating drawings and selecting a color palette based on the conceptual premises that she's exploring. The drawings are sometimes very deliberate and drafted to scale for the work, other times they're loose sketches she uses to guide the work. However, the execution of her installations always includes the element of intuitive unknown left to the moments when she is in the space / onsite working. Often she also has at least one or two other artists helping her to install due to the scale of her projects. During installation Wilson often asks the assistant artists for their feedback and participation in the creative process, within the parameters that she is already working. Wilson doesn't always keep their contributions as part of the final product, but often she does.
Installation
In preparation for This Fever I Can't Resist, Trisha arranged for two students – Nate Balcombe and Allison Uttley - from the Printmaking Department at the University of Hawai'i to assist Megan and Carolyn during the installation. They were recommended by Professor Gaye Chan. Nate and Allison were invaluable to the process. Nate was great with drawing my flowers, as well as some of his own that helped to make the overall composition more interesting by mixing it up. Allison was a natural at working with the textiles to create beautiful sections that complimented mine and also strengthened the work. Finally, as the time was becoming very tight for finishing up before the opening, Carolyn added many flourishes to the flower designs.
Megan Wilson
Drawing on her interest in the tension between cool Minimalism and expressive Pattern and Decoration, Megan Wilson combines textiles and traditional crafts with her signature brightly colored flowers in a sixties pop style against swirling swaths of seventies' earth tones. Never having been to Hawai'i, Wilson also reflects on her position of outsider as self-mistaken insider. Her early impressions of the islands were informed by watching episodes of the television police series Hawaii Five-O in the seventies. A combination of steamy international espionage on the streets and hotel rooms of Honolulu and iconic images of lush tropics and grass-skirted hula girls, Hawaii Five-O became an exotic fantasy world for Wilson, who grew up in the mountains and plains of Montana. Wilson's work is conceptually driven, however, she uses her decorative aesthetic: 1) to challenge notions by critics of what constitutes as "art" and initiate further dialogue on where the feelings of tension around ornament and beauty derive; and 2) as a point of entry for engagement and deeper consideration of the issues that she's addressing conceptually.
Carolyn Castaño
In her wall installation, Carolyn Castaño re-mixes portraits of friends using figurative and abstract elements that are informed in part by the colors and patterns of Tropicalisimo, psychedelic rock posters, hard-edge abstraction and the storefront aesthetics of her native Los Angeles. She is interested in the articulation of beauty, where her subjects may be decked in shaggy hair, and skinny pants with glitter and rhinestones and the graphic quality of commercial textiles, beauty salon illustrations, and mercado storefront banners that represent them. In This Fever I Can't Resist, Castaño re-imagines the Tropics, where the visual geography of LA and it's proximity to the southern Tropics (Latin America ) meets the Hawaiian tropics ( Pacific) in a wall installation that is simultaneously hard-edge abstraction, street tacky, and folk figurative.
Preliminary Drawings & Design Elements
Process
The first day Megan spent at thirtyninehotel after her arrival in Honolulu was with curator, N. Trisha Lagaso Goldberg. She wanted to get a feel for the space and discuss her ideas. Trisha noted that she really liked the horizons lines/stripes that Megan had been working with as a background for several of her recent installations. She hadn't planned on using this visual element in the exhibition at thirtyninehotel, however after Trisha made the suggestion, she could see how it could be a good anchor visually for the organic shapes/landscape that Megan planned to work with.